Whiteboard animation is a video style that shows the viewer static images being drawn on the screen. Typically, the illustrations are accompanied by a narration that walks the audience through the story that is being told within the drawing. These animations are simple, yet undoubtedly engaging.
There is no question that video marketing has exploded in the last decade, becoming a key aspect of any successful marketing plan. Everyone has jumped on the video bandwagon. This being said, it is no surprise that consumers are four times more interested in watching videos about a product rather than reading about one. The majority of marketers also list video marketing as the best form of ROI. This means that video marketing should not be at the bottom of your to-do list but instead a vital part of your business' communication and marketing strategy.
Now that you know incorporating video into your business plan is a must, now the question becomes- what style of video should you invest in?
Using a whiteboard animation video can be an incredibly effective tool. They are an exciting and innovative way to advertise and market your services or products. These videos can be created to cater to a variety of specific industries without any of the fluff found in other styles of video. Additionally, a whiteboard video is intended to be focused. This means your message will be heard loud and clear.
A whiteboard animation is the perfect place for your company to start integrating video into your marketing strategy. It is memorable, striking, and can be produced quickly with very little costs. Whiteboard animations are the perfect addition to any company's website, social media, or email newsletters. This digital flexibility makes marketing possibilities practically endless! All you need is a concept. Don't have a script? That's okay! Our talented and professional scriptwriters have the ability to understand your vision and portray a powerful message that will tell your viewers just how your company fits into their life. In addition to an influential and precise call to action, whiteboard animation videos are more economical to produce than any other type of video.
Like most other video formats, whiteboard animation costs can have a number of different factors. The total animation time, style of characters, and speed of your schedule will affect the total cost of your video. Our cost equals artist hours multiplied by video length. Our production studio professionals can help guide you to help get the most out of your budget.
Whiteboard animations go through the same stages of production as most animations. Once the script and style frames are complete, your whiteboard animation video will need a storyboard. After this, our amazing group of artists will animate the storyboard. Our standard process takes a month from start to finish. From the beginning of your project, it is important to communicate your vision as precisely as possible. With our team understanding the desired feel of your video, fewer revisions will be needed – meaning your video will be ready much quicker!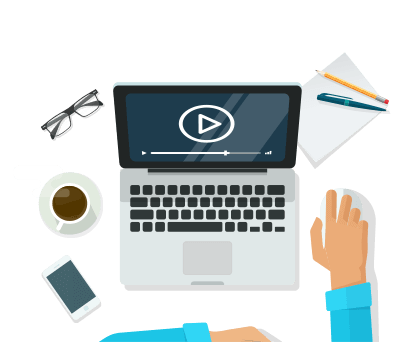 Keep in mind that in order to have an effective whiteboard video, you must first understand your ultimate call to action. By knowing your product and knowing the important keys of your viewers' response, you will be well on the right path to converting them to buyers or followers. Once you have this established, give us a call to get your next Whiteboard Animation project started with one of our talented producers.
How Does Whiteboard Animation Help You?
They're memorable. Research by Dr. Richard Wiseman found that 15% more information is retained from a whiteboard animation than a talking heads video.
They're versatile. Whiteboard animations are suitable for any topic from educational videos to marketing content.
They're easy to create yourself. Unlike live action video content you don't need any experience or expensive equipment to create your own whiteboard animations.
They hold your attention. The combination of sound, movement and visuals appeals to all our senses and the way the animations draw keeps us interested to learn what will happen next.
They're fun! Whiteboard animations put people in a good mood which helps them learn. Suddenly the content isn't work, it's entertainment.
Who Can Benefit from Whiteboard Animation?
Salespeople and marketers: consumers not only want to see more video content from brands but they actually expect it. Creating whiteboard animations is a great way to meet that expectation in a quick, easy and affordable way.
Students: if you need to deliver an impressive looking presentation to your class then whiteboard animations will be your best friend. They're easy to create in minutes but look like they took hours. Let your animation play in the background while you talk over the top or record a voice-over to take some of the stress out of presenting.
Educators: not only is it proven that whiteboard animations improve knowledge retention and student engagement, but they're also easy to adapt to the different needs of your students.
HR and internal communications teams: need your company announcement to stand out? Create a whiteboard animation. Unlike a paragraph of text in an email, animations are hard to ignore. Plus, you'll convey more information in a fraction of the time it would take to explain in a document or briefing.
Let's start making your own video!